Automatic radiator bleed valve (kit consisting on 5 pieces)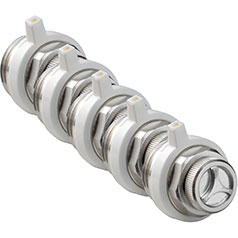 Automatic radiator bleed valve (kit consisting on 5 pieces)
This automatic function improves operational safety.
This automatic function improves operational safety(reduces corrosion) and increases user comfort(no air noises).
This valve automatically and continuously vents water-bearing systems like radiators, pipe registers, pipelines boilers, underfloor hering distributor, tanks etc.
Installation is extremely easy and can be executed without major technical efforts.
This is a multipack and not for sale of individual valves.
Features
Save up to 20% in time and money.
Avoid an uncontrolled escape of water whileradiotor vents.
Continuous venting of radiator.
Manual venting not necessary.
No bothersome "gurgling" of the radiator.
Full heating power for your radiator.
Extremely easy installation.
Reviews
There are yet no reviews for this product.
---