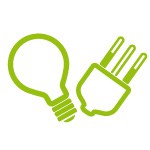 How much energy are you wasting without knowing?
Turning out the light when not necessary has become a good habit, but we are still wasting a lot of electricity: our appliances (PC, TV, stereo, etc.) are constantly in standby, consuming energy without you knowing about it, until bill arrives.
Why keep on with this waste of money?
What EcoDHOME proposes?
Choose our Electricity Energy Management System! Thanks to our MCEE USB, you'll be constantly aware about your electric consumption, for total and each connected appliance. The controller receives data from the transmitters and sensor plug sockets, displays the real time and history information on its LCD screen and sends powering on/off instruction to the sensor plug sockets.
If you have a photovoltaic plant, MCEE Solar is the device you are searching for! When the home electricity consumption is higher than the electricity output of the home solar plant, the LED indicator on MCEE Solar will become red, providing an alarm warning. Vice versa, it will be green.
MyVirtuoso Home is an automated wireless system that can create different scenarios which enable you to keep a constant check on your gas and electricity consumption, to maintain the perfect temperature in every room, and to control the lighting and all your electrically powered devices. The system can also monitor your home via your smartphone or tablet, using paired IP cameras.
For further information, please visit our "Products" section!