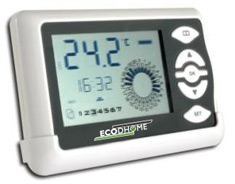 Do you have cold bedroom and warm living room?!
Change your old thermostat: choose our wireless WMTE-701!
No permanent installation: you can place the thermostat wherever you want.
Large display gives a clear view of the programmes set and of the actual room temperature.
Simple to program.
Wireless technology: requires no cabling; data transmission is by radiofrequency.
Description
The EcoDHOME WMTE wireless thermostat allows weekly programming of the temperature settings for each zone, using a multi-channel receiver, communicating instructions to each zone.
With the WMTE system, it is possible to control the openeing and closing of solenoid valves or the switching on and off heating or cooling systems, without changing the existing electrical wiring, using theWMTE wireless capability.
The system is modular, and therefore provides flexibilty in configuring the system.The WMTE wireless thermostat manages the set programmes, measures the zonal temperarures and sends commands to either the boileror thermal actuators via an WMTE RX receiver control unit.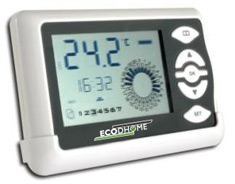 The WMTE RX receiver unit receives instructions from the WMTE thermostat and acts as an actuator for items paired to it, for example heating and cooling systems.

There are two versions of WMTE RX, the single channel WMTE R1 and a four channel version, WMTE R4. They are ideal for controlling multi-zone systems.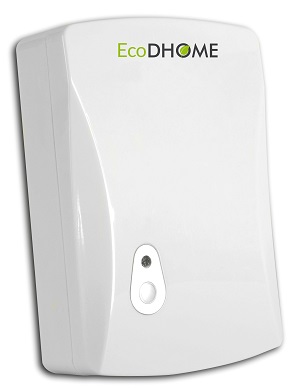 The control unit can be installed under the boiler, on the wall replacing the conventional thermostat, or in the case of WMTE R4, in the vicinity of the control valves.
The signal will travel about 30 metres (in a straight line), through approximately 2 walls.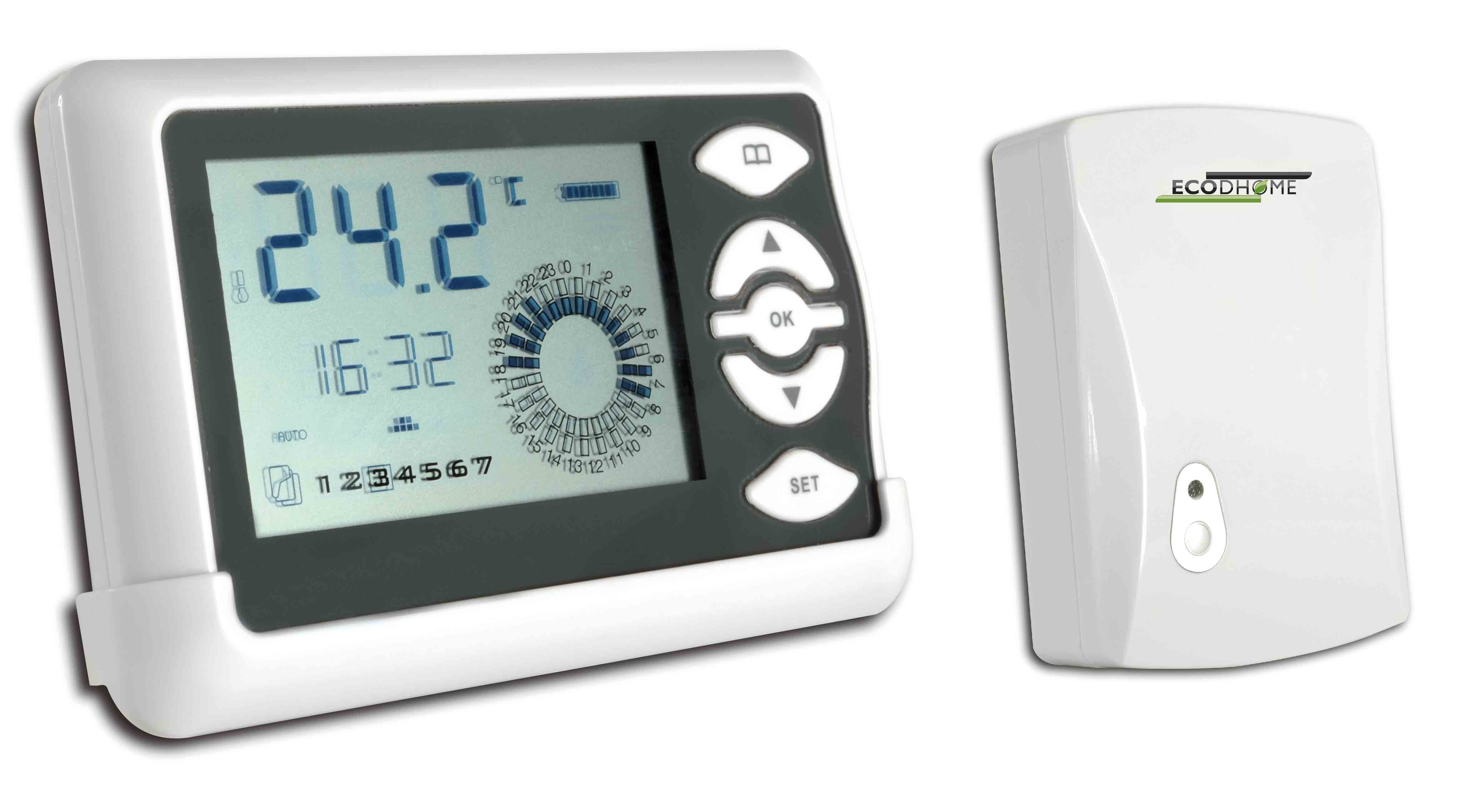 Application
Remote control of boilers.
Management of multi-zone heating systems, radiators or heating panels using WMTE R4.
Management of fan coil units.
Management of air conditioning systems.
Activation of heating switches or solenoids.
Pump control.
Powering ventilation systems.
Management of central heating/cooling systems.
Features
Functions for the control of heating and cooling.
Programmable for each day of the week, with 24 intervals per day.
Two selectable programmes, 1 factory setting and 1 user setting.
Manual adjustment for settings.
Large display.
3 temperature levels can be set for each time slot.
Complete flexibilty of positioning.
Technical specifications
Thermostat power supply: two LR6 1.5V alkaline batteries.
Receiver contro unit power supply: 220 VCA (±10%) 50Hz.
Range of temperature adjustment: 5÷35°C/39÷95°C.
Range of temperature display: 0÷40°C/32÷104°C.
Temperature test frequency: every minute.
Display accuracy: 0.1°C.
Probe sensor: NTC (100K) 1%.
Protection level: IP20.
Output: switch relay.
Contact capacity: 8A/250V (WW model); 16A/250V (RF model); 5A/250V (MRF model).
Insulating condition: normal environment.
Working environment temperature: -18÷50°C/0÷122°C.
Running program: set per 1 week as a cycle.