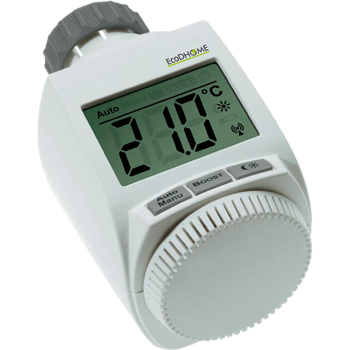 Can be attached to any thermostatic radiator valve, without the need for costly plumbing work!
Perfect temperature control for savings of up to 30% on your heating bills!
Benefits
Saving up to 30% on your heating bills.
Control the temperature of each room with the precision of a smart digital device.
No building works needed.
High accuracy.
Thanks to the heads programme controls, you can set the ideal temperature for a certain timeof day and/or week.
Once you have defined on/off cycles (up to 6 per day) and the desired temperature, the motor in the head will adjust the radiator valve to which it is connected, increasing or decreasing the flow of hot water according to the set temperature.
Achieving the desired temperature can result in increased levels of comfort and cost savings where temperatures are lowered for unoccupied rooms.
The TTD series of digital thermostatic heads can be attached to any radiator which has a thermostatic radiator valve fitted. These can easily be identified by removing the knob. If there is a spring loaded pin in the centre, then you have the correct type.
If the radiator does not have a thermostatic valve, then you will have to replace it, in order to fit a digital head.